Apple has released iOS 6.1, which added LTE support to Vodacom's iPhone 5 subscribers. There is no LTE support hoever for the iPad, 4th Generation or the iPad Mini in South Africa.
This update contains improvements and bug fixes, including:
- LTE support for more carriers (complete list of supported carriers at www.apple.com/iphone/LTE/)
- Purchase movie tickets through Fandango with Siri (USA only)
- iTunes Match subscribers can now download individual songs from iCloud
- New button to reset the Advertising Identifier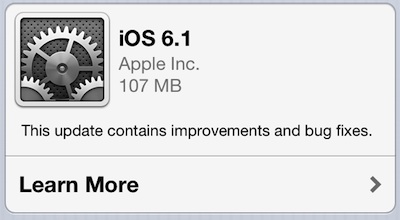 "iOS 6 is the world's most advanced mobile operating system, and with nearly 300 million iPhone, iPad and iPod touch devices on iOS 6 in just five months, it may be the most popular new version of an OS in history," said Philip Schiller, Apple's senior vice president of Worldwide Marketing. "iOS 6.1 brings LTE support to more markets around the world, so even more users can enjoy ultrafast Safari browsing, FaceTime video calls, iCloud services, and iTunes and App Store downloads."
iOS 6.1 is available as a free software update today (28 January 2013). iOS 6.1 is compatible with iPhone 5, iPhone 4S, iPhone 4, iPhone 3GS, iPad (third and fourth generation), iPad mini, iPad 2 and iPod touch (fourth and fifth generation).
To update your iDevice to iOS 6.1 either check for updates via iTunes or on device go to Settings, General and select software update.
To activate LTE on you Vodacom iPhone 5 go to Settings, General, Carrier, Cellular Data Network and change the Cellular Data APN to "lte.vodacom.za"
If the above mention method doesn't work you will have to call Vodacom.
Need iTunes Store credit? Purchase an iTunes Gift Card